A number of factors led MoCCA Fest 2010 to be a different experience for me than SPX. Number 1, I was not frozen solid by the climate system on the second day, and I did not have some kind of broken knee…
Number 2 was the difference in venue. SPX had an ebullience about it that was just fun. MoCCA seemed more business-like–this possibly owing to the dull, well-worn surroundings of the armory where it took place. I do think it was a huge show that was more packed than SPX. The aisles were certainly wider.
Number 3, I was by myself, and could not roam. Luckily, I had three great neighbors:
To my left was the amicable Canadian Mike Kitchen of Ultraist Studios. He and his brother (absent) are a rival team; Blair Kitchen makes The Possum. They both deserve every bit of attention they can wring from you!
To my right were Caitlin Cass and her boyfriend Aaron, two lovely people who did quite well over the weekend! Her subject matter is similar to Kate Beaton's histories, but it is far more romantically done.
I also got to see my bud Andrew Edge over at Cool Monkey Press again. He was finally able to bring Issue 3 of his Grizzly and Caticus series to light. I recommend you check out his ink work if you haven't seen his site already. He's a fantastic artist. It's too bad he doesn't have his print work up there–it's ace.
Number 4, my discovery of the show: Stephanie Yue.
Hell yeah. I was so downtrodden when I saw this site hadn't been updated for two years! I hope she makes more of these guys. I noticed her from the other side of my aisle and thought they were pictures of dancing first. On closer inspection, I was blown out of my boots, and so happy to be wrong that I instantly bought two posters from her. One of them is a short fight scene that is not on her site. It's fantastic. Maybe I'll just draw cute art from now on.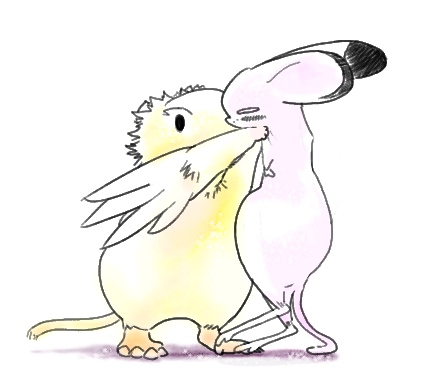 She has a more general site for her art, Jelly City, that definitely deserves a look. The site with the wu shu mice is www.learnmousestyle.com in case you'd like to bookmark it.
Finally, number 5, were the readers who came down to the show to see me. You guys made my day[s]. Lexa, I'm so sorry I didn't have the correct change! Thanks to everyone for stopping by to say hi. I'm so dumb; I should have struck up a conversation or something. Everyone I met who was casually browsing the show used the adjective "overwhelming," and they were right.
Looking forward to next year. I've already registered again!